Learn how to Mix n' Match fashion like a pro!
Easy Read | 3-5 Minutes Read |
We're back for another round of Boom Team Mix n Matching, and this time we're playing dress ups with our warehouse team and the girls from the Peregian office. They've chosen a range of pieces from this years winter and summer collections, and also mixed in some of last years goodies. Block prints, hand embroided jumpers, and our beautiful moonlight and Manhattan fabrics with the sparkling lurex stripes, are just a few of their favourite things.
So let's have a look at what they chose for this Mix n Match round…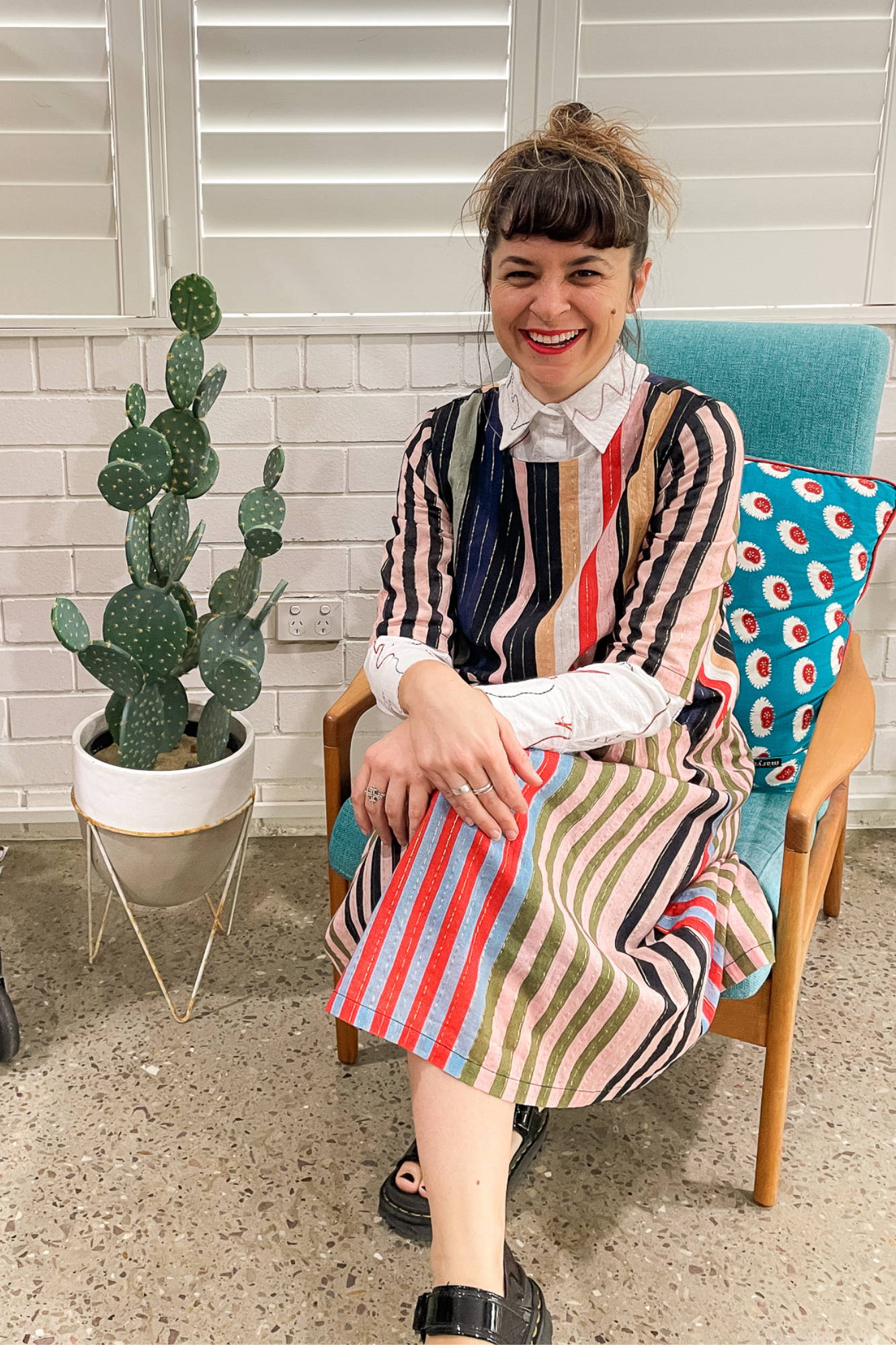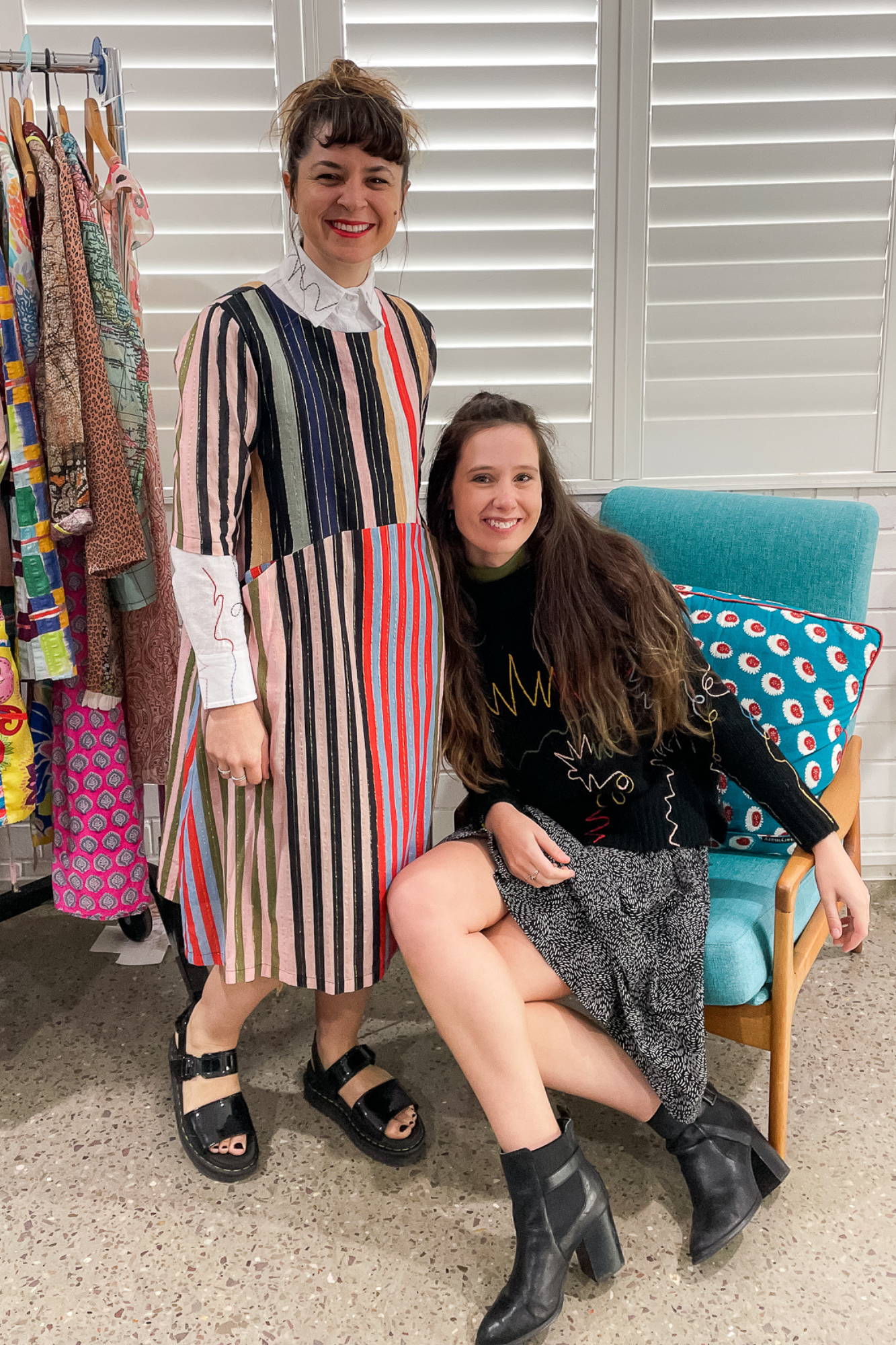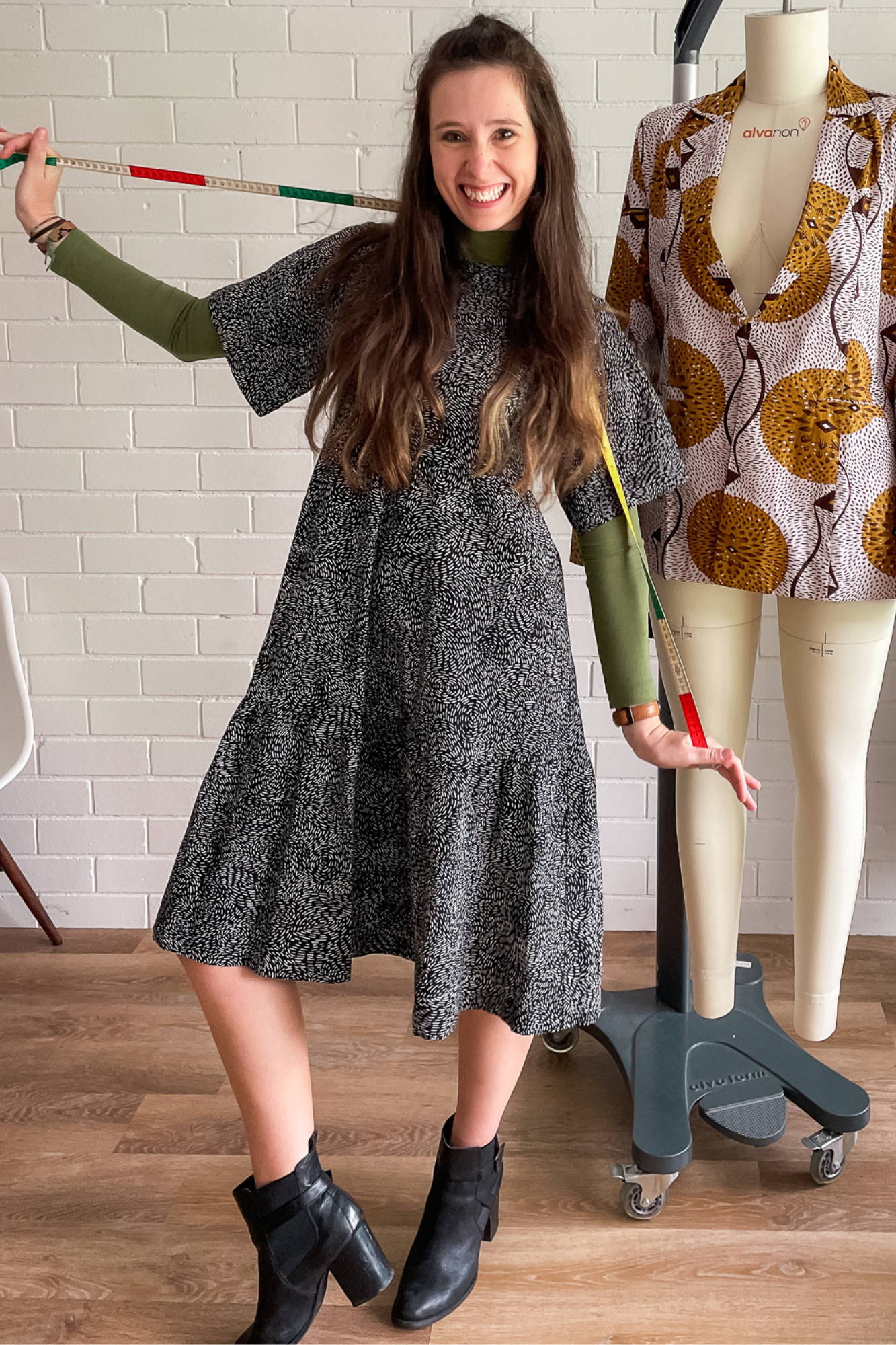 Jane (above left) is our fabulous Designer at Boom Shankar and assists Dui in making magic happen. For her Mix n Match outfit she's layered our fun White Squiggle Shirt under the colourful Manhattan Soho Dress. 
The White Squiggle Shirt is a great all-season staple, made in 100% cotton, with beautiful colourful embroidery and in a lovely cut that will suit many body shapes. Our Manhattan Soho Dress also suits many body shapes, with shaped side seams and pockets that create a sculptural yet flattering silhouette, it's a chic and directional style that is so easy to wear. Made with our fun, colourful lurex Manhattan fabric, this dress is also a winner for most seasons by either layering up for winter, or wearing as is for the warmer months.  
Mel (above right) is the Production Coordinator at Boom Shankar. For her Mix n Match she's styled the Sage Boom Skivvy under our Pepper Queenie Dress and added the Black Squiggle Jumper for those cooler days. 
Our Sage Boom Skivvy is just one of the many great colours available in our winter skivvy wardrobe staples. Great for layering under tops, dresses, vests, or even just great by themselves with a skirt or pants. You can't go wrong!!! Then we've got last winters Pepper Queenie Dress in our cotton block print, with a loose, over sized fit, perfect to be worn as is with ankle boots, or layered with skivvies under and stockings for winter. Our Black Squiggle Jumper in luxury lambswool, which is great for regulating your body temperature, is such a fun and colourful winter must, with its super comfy fit and embroidered squiggles. You'll make everyone smile!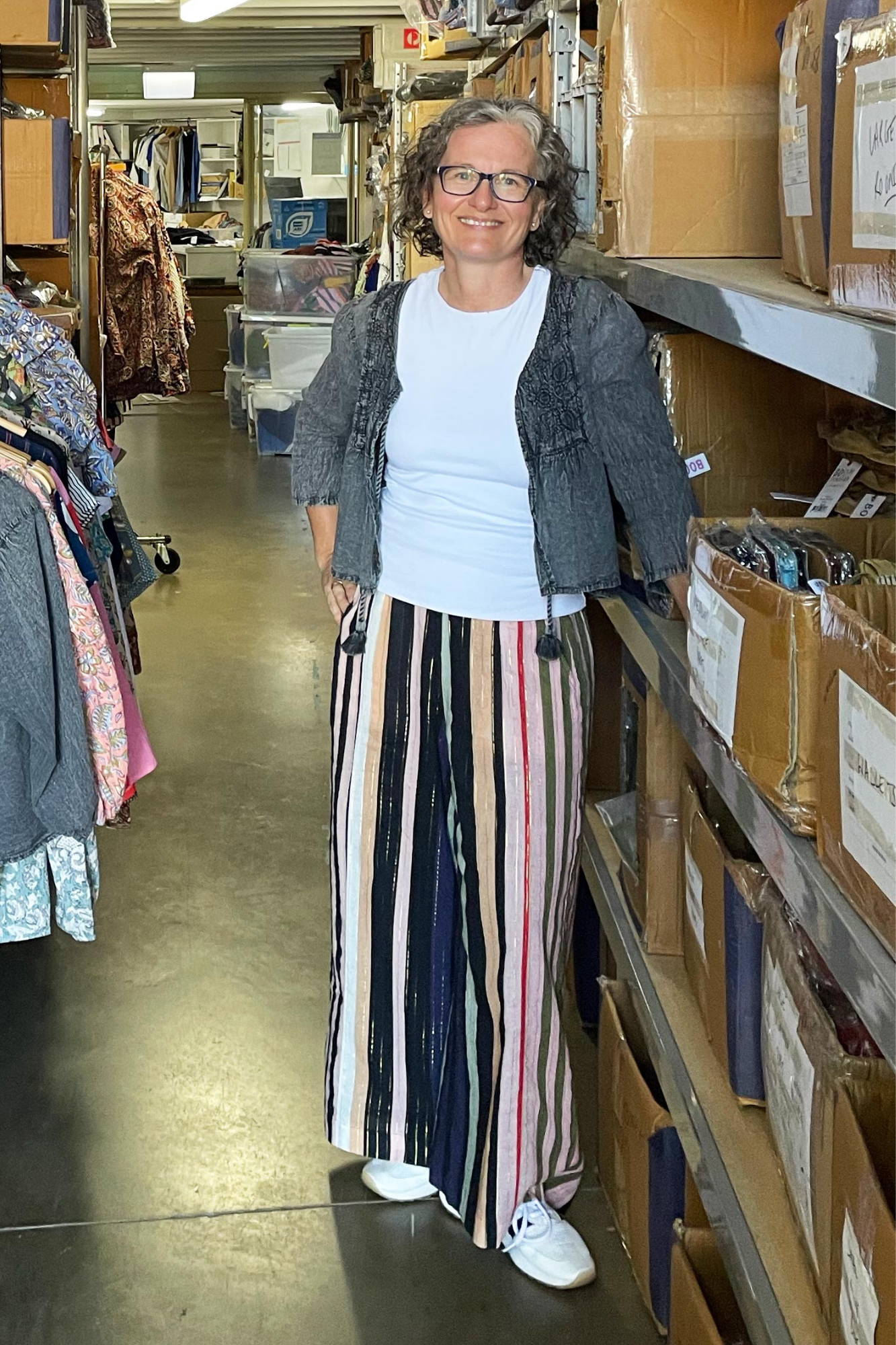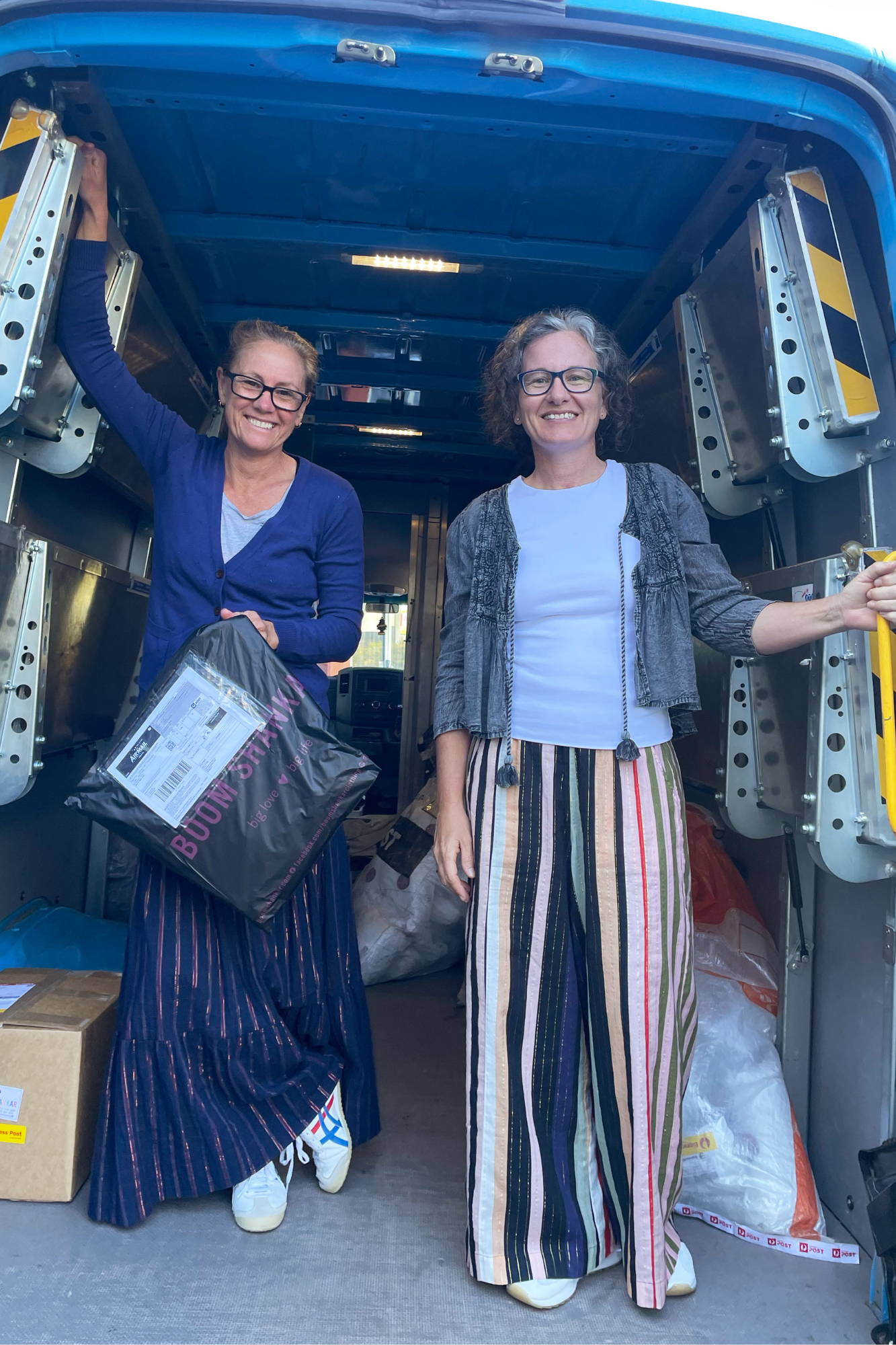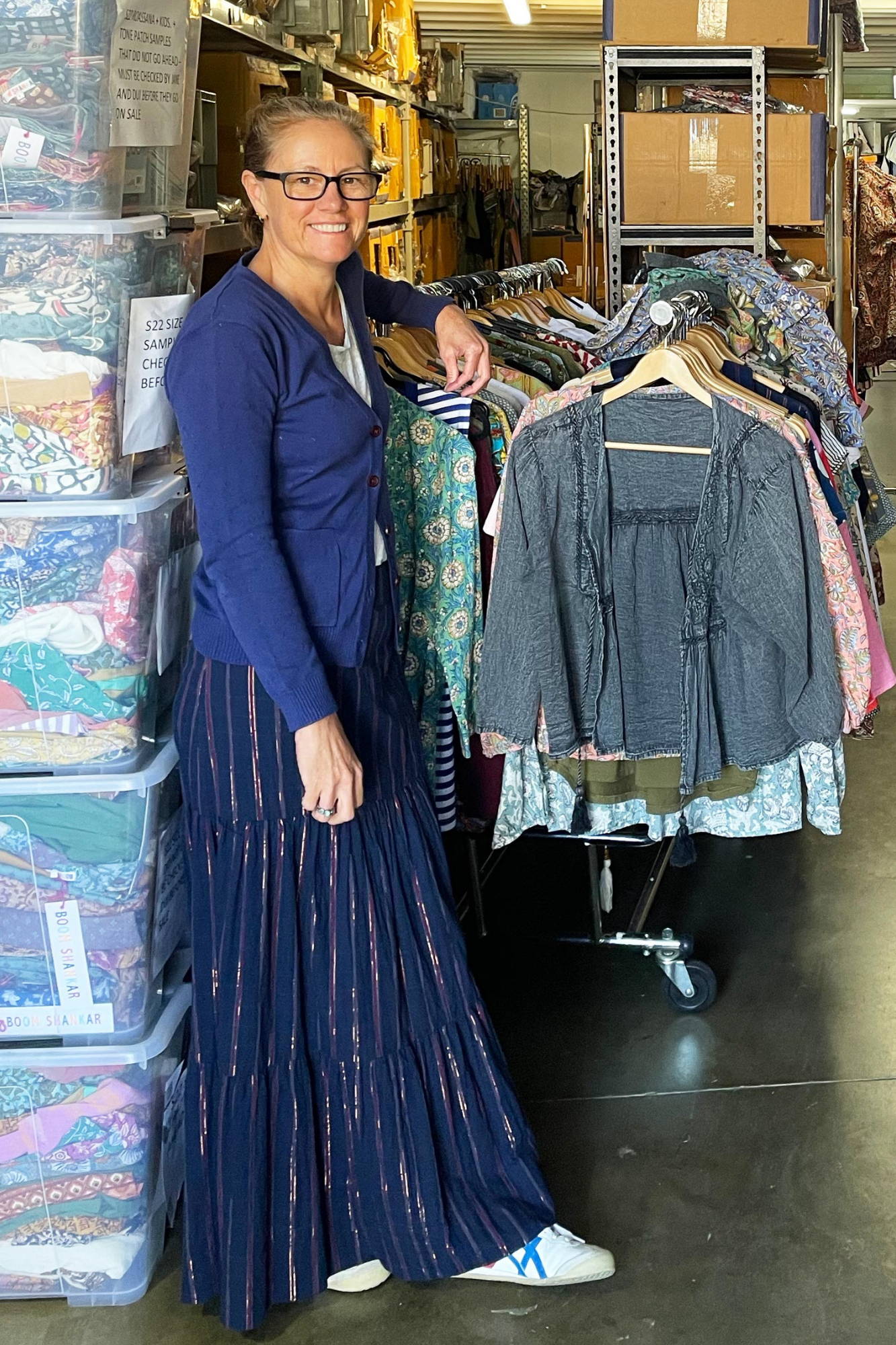 Carmen (above left) is one of our Warehouse Heroes at Boom Shankar. She chose the Island Stone Rama Jacket with the Manhattan Soho Pants for her Mix n Match outift. Comfort is very important to Carmen and that's exactly what this outfit is.
The Island Stone Rama Jacket is from our recent 'Island Life' summer collection. This jacket is 100% cotton making it super lightweight. It's the perfect cover up over tops or dresses when the weather is warm, but also a great throw over your long sleeves once it cools down. Plus the grey stonewash look is so versatile to mix n match with all sorts of patterns and colours. Our Manhattan Soho Pants are the most comfortable pants, that you'll want to live in them. The high waist, elasticated waistband and tie belt add a super stylish feature to these wide-leg beauties! And our Manhattan fabric is gorgeous and hangs just beautifully with its colourful lurex shimmer. Again, these pants are versatile for all seasons so you can mix n match them all year round. 
Jodi (above right) is our other Warehouse Hero at Boom Shankar. For her Mix n Match outfit she's teamed the Midnight Blue Lorell Cardigan with our Moonlight Lux Skirt. 
Our classic Midnight Blue Lorell Cardigan is a wardrobe staple, comes in 5 different colours, and will take you all the way from Autumn to Winter, and back again. I mean, who doesn't love a cardi! Our Moonlight Lux Skirt is from last winters collection, and like our fabulous Manhattan fabric from this year, also features some shimmery lurex goodness. This skirt is another favourite style of ours and you can find in our latest winter collection in our Queens, Manhattan and Brooklyn fabrics. It features tiered panels, a full hem and a side zip opening. Super flattering and elegant, so you can wear casually or dress up for the evening. 
🌼 🌺 🌼 🌺 🌼 🌺 🌼
If you're looking for more Mix n Match ideas so you can make the most of all your fabulous BOOM pieces, check out our WEBSITE and see what else we've come up with for you... and don't forget... clothes are there for fun. Play with them and create YOUR own unique style. Never follow the norm!
If you ever need a little personal help with your wardrobe styling, come visit us at our Hastings Street store as our Boom girls are always there to assist and style you up for all occasions! 41 Hastings Street, Noosa Heads ~ Monday to Sunday