Top 7 Noosa Fashion Picks
Easy Read | 3-5 Minutes Read |
Noosa Heads. The magical coastal town situated 1.5-2 hours north of Brisbane (by car) that we're lucky enough to call home. Surrounded by a beautiful calm bay, that's perfect for swimming in all year round (depending how brave you are), a National Park, surf breaks and a river, plus with the vast long sandy stretch of beach from Noosa Northshore to Rainbow Beach, just a short ferry ride away. Noosa also offers a superb selection of restaurants, bars, cafes, shops and fun holiday vibes, that there's no way you could ever be disappointed.
We thought it would be nice to share with you some of our favourite places in Noosa, and give a little local recommendations of things to do whilst you're visiting this amazing area. So I asked the girls down at our Hastings Street store where they like to go, and a few things they love to do.
First off is our beautiful store manager, Shari..
Hey 👋 I'm Shari, a Noosa local for 35 years... I've left this place many times but something ALWAYS brought me back! These days I'm here to stay ☺ I'm a mum of little boys and we love everything outdoors – if there's a beach or a board involved we're in!
Favourite place for a coffee?
I grab my coffees from the cart out the front of Sails Restaurant – a beachfront location on the boardwalk and I don't need to wear shoes. Bonus!
Favourite place to dine? 
My current fave for dinner on Hastings Street is Bang Bang! The atmosphere's amazing, great cocktails and fun knowledgeable staff. Plus the BEST Massaman Beef Curry EVERRRR!!!! 🤤
Favourite place for drinks with friends?
Rococo Noosa is always fun for drinks! There's often live music and always people dancing!
Favourite place to shop?
I love all the fun eclectic accessories at Uncle George on Hastings Street – so much colour 🌈
Favourite thing to do in Noosa?
Hands down my favourite thing to do whether I'm alone or with a friend is to walk the coastal track through the National Park to Hell's Gates. Especially at this time of year – everything's super crisp and the water's more sparkly than ever ✨😍 plus I see whales most times I walk the track at the mo!
Favourite place/activity to do with visitors coming to Noosa?
For years we have hired a BBQ pontoon boat (or two to convoy) when we have friends visit – with or without kids. We spend hours on the river – eating, drinking, fishing. It never gets old!!!
Favourite items/outfit from Mix n Match?
I love all of my Lulu dresses with a shirt or Harlow top worn over the top, tied or bunched in the front. When it's cooler I can throw a jacket over the top too 🥰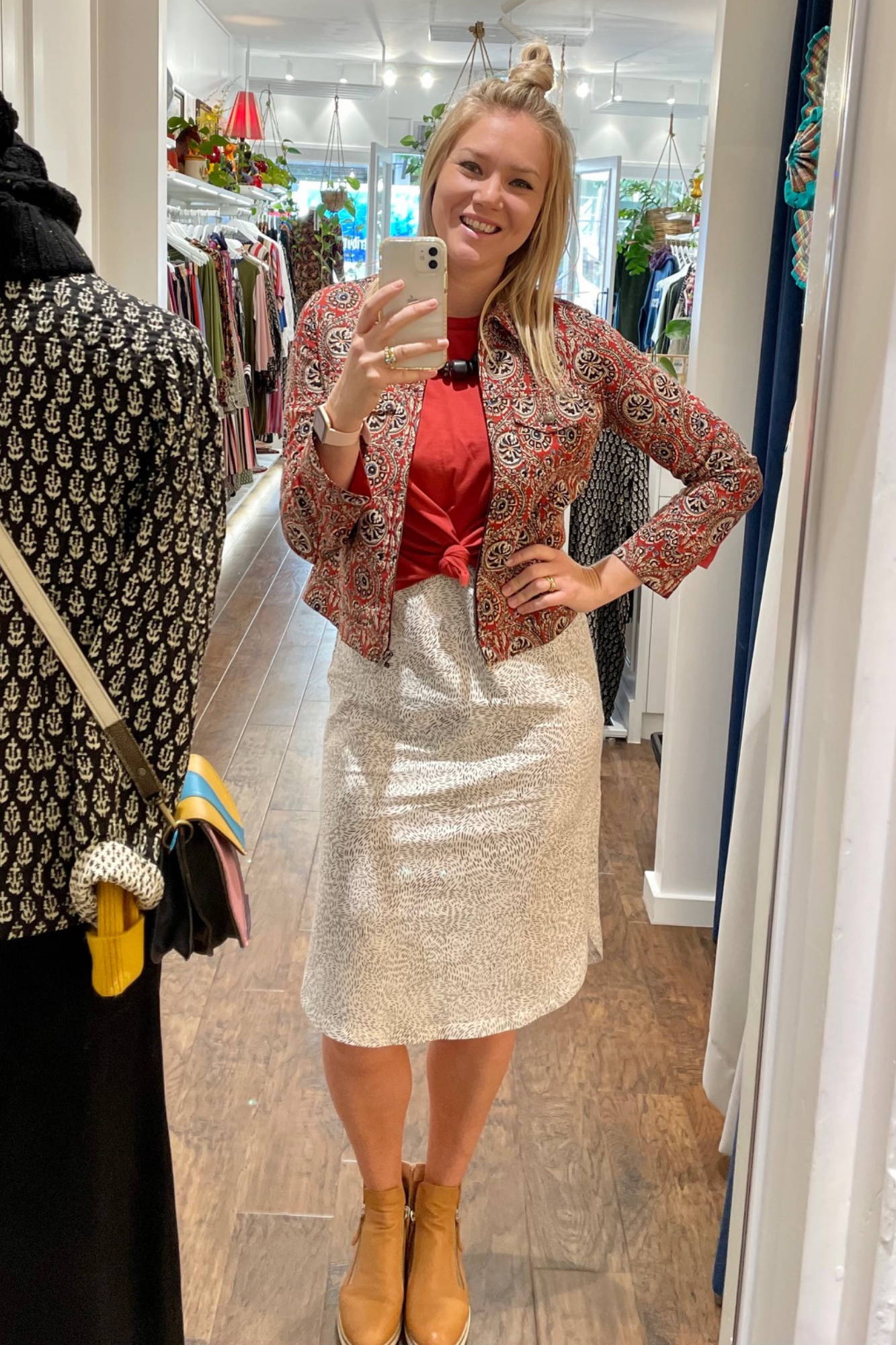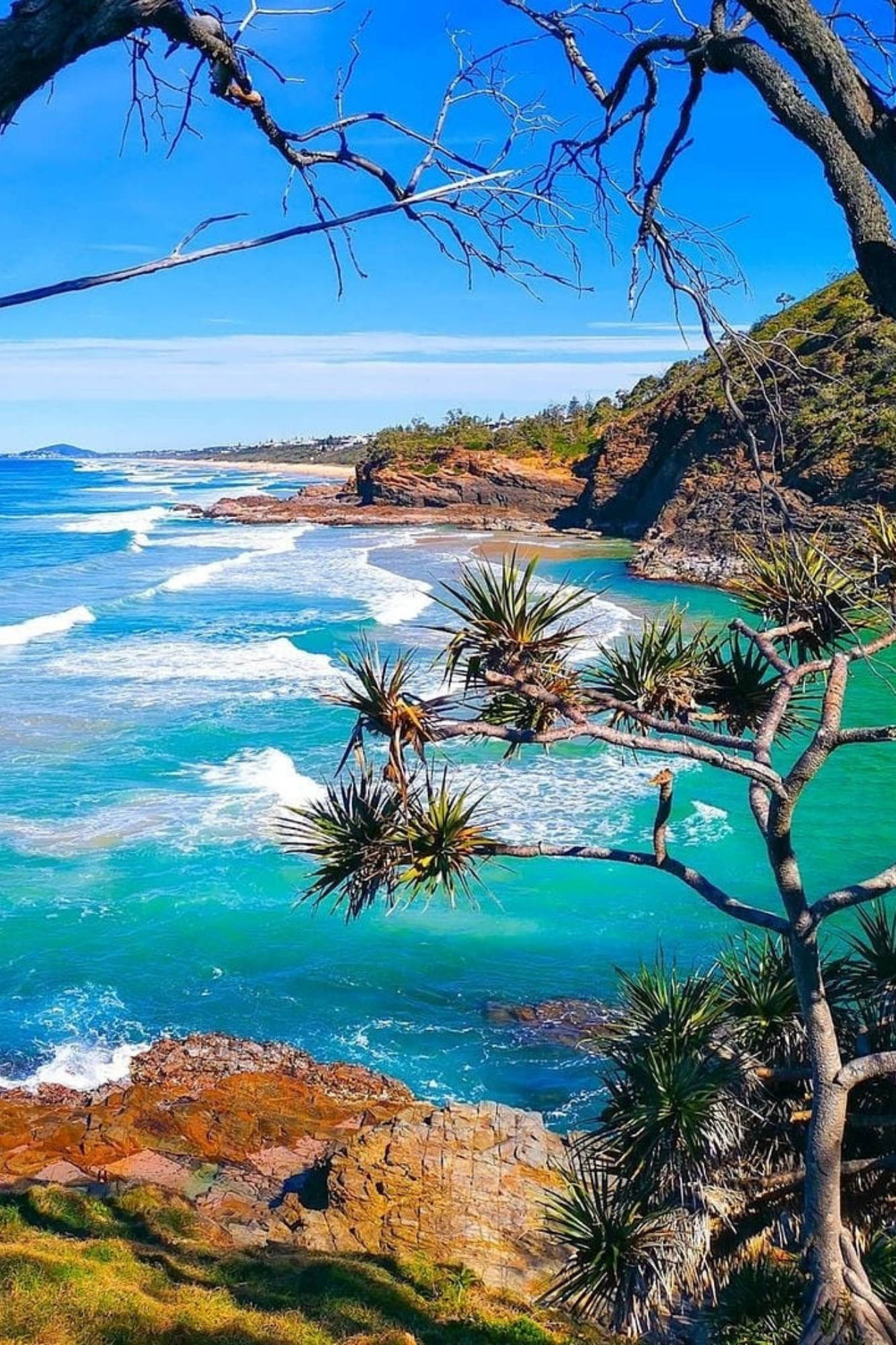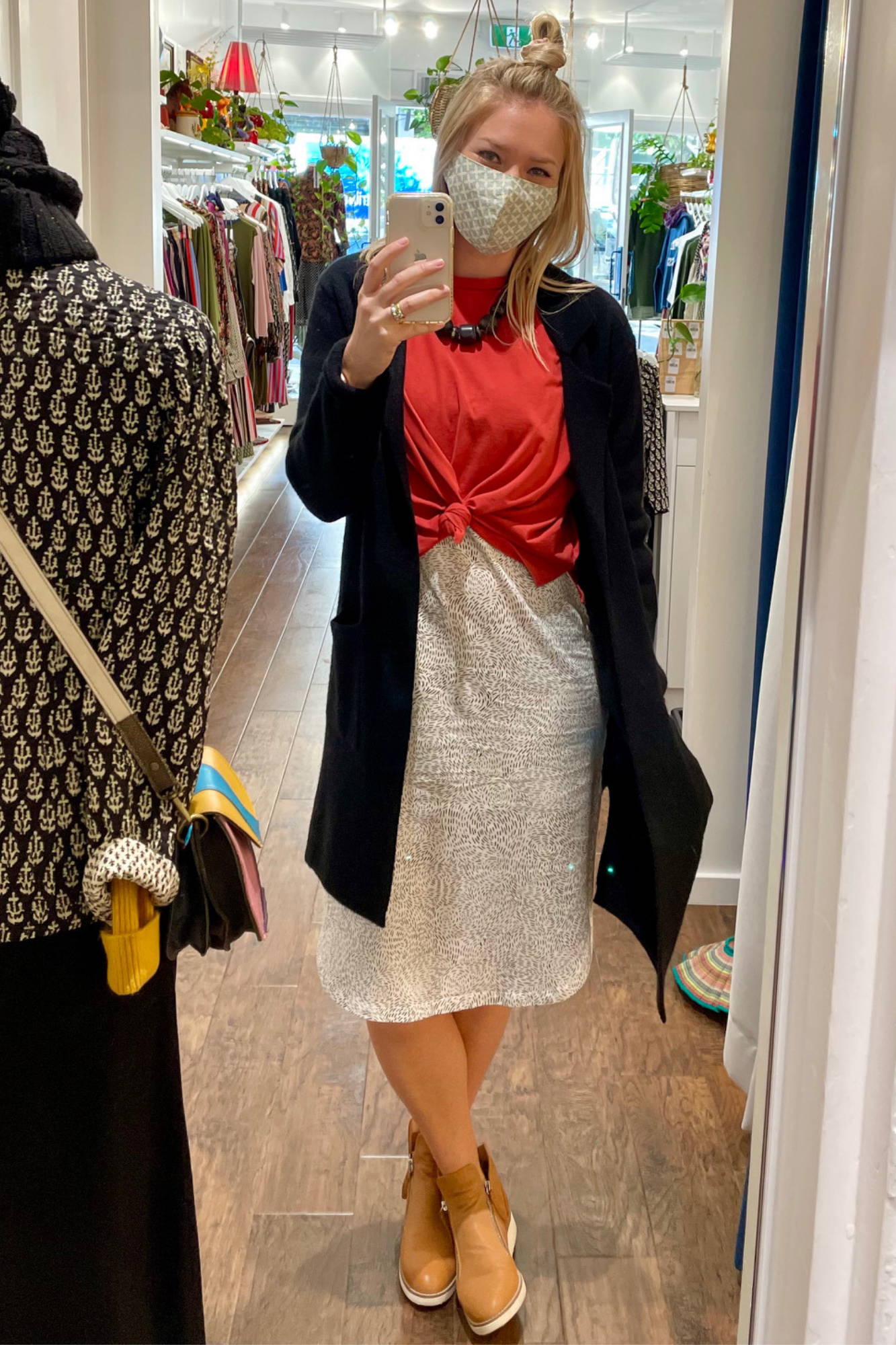 Above Shari wears the Salt Lulu Dress from last winter, layered under our Cinnabar Harlow Top, which she's styled with the Brooklyn Kensington Jacket (left) and the
🌺 🌿 🌺 🌿 🌺 🌿 🌺 🌿
Next up, I caught up with fun and bubbly Natasha...
"Hi I'm Natasha I'm a recent addition to coastal life! I have 2 girls and we are all out on the river or beach at every moment possible. Whether it's paddle boarding, crabbing, surfing, fishing or just the casual bike ride or run we are out there making use of the amazing sunshine and lifestyle Noosa/coast has to offer."
Favourite place for a coffee?
Noosa Social. They make the best espressos on the strip.
Favourite place to dine?
Locale has been long time fav. The staff are great and the food is next level. 
I also dream about the snapper from Bang Bang….. a definite for the list! 
Favourite place for drinks with friends?
Bistro C is a fav for a drink, you just can't fault the view from there!
Favourite place to shop? 
Boom Shankar of course! And I'm not just saying that!
Favourite thing to do in Noosa? 
For me it's walking the headlands, and swimming from Little Cove through to the dog beach, and up the river mouth.
If you're on holiday, and it includes a little fitness, I suggest you run the headlands, down past the dog beach, up along the river, then thru the Noosa Woods car park (I hope you're following me lol) and back to main beach. Jump in there and do the swim with the locals, from the surf club to the rock wall and back. You will feel a million dollars and worked up an appetite to maybe get some fresh seafood and head back to the beach for a picnic! If you don't want the crowds take your picnic to the riverside. 
(Wonder if Bang Bang does take away Snapper 🥰 if they do, I suggest getting that!)
Tea tree is a beautiful beach too if you don't mind the walk, and it's not too far in the National Park either. 
Favourite activity to do with visitors coming to Noosa? 
When friends come up I love to take them on the NP headlands walk around to Sunshine Beach and back, and then go paddle boarding along the river
Favourite items/outfit from Mix n Match? 
Definitely the Palm Shirt from last summer. It goes with everything!!!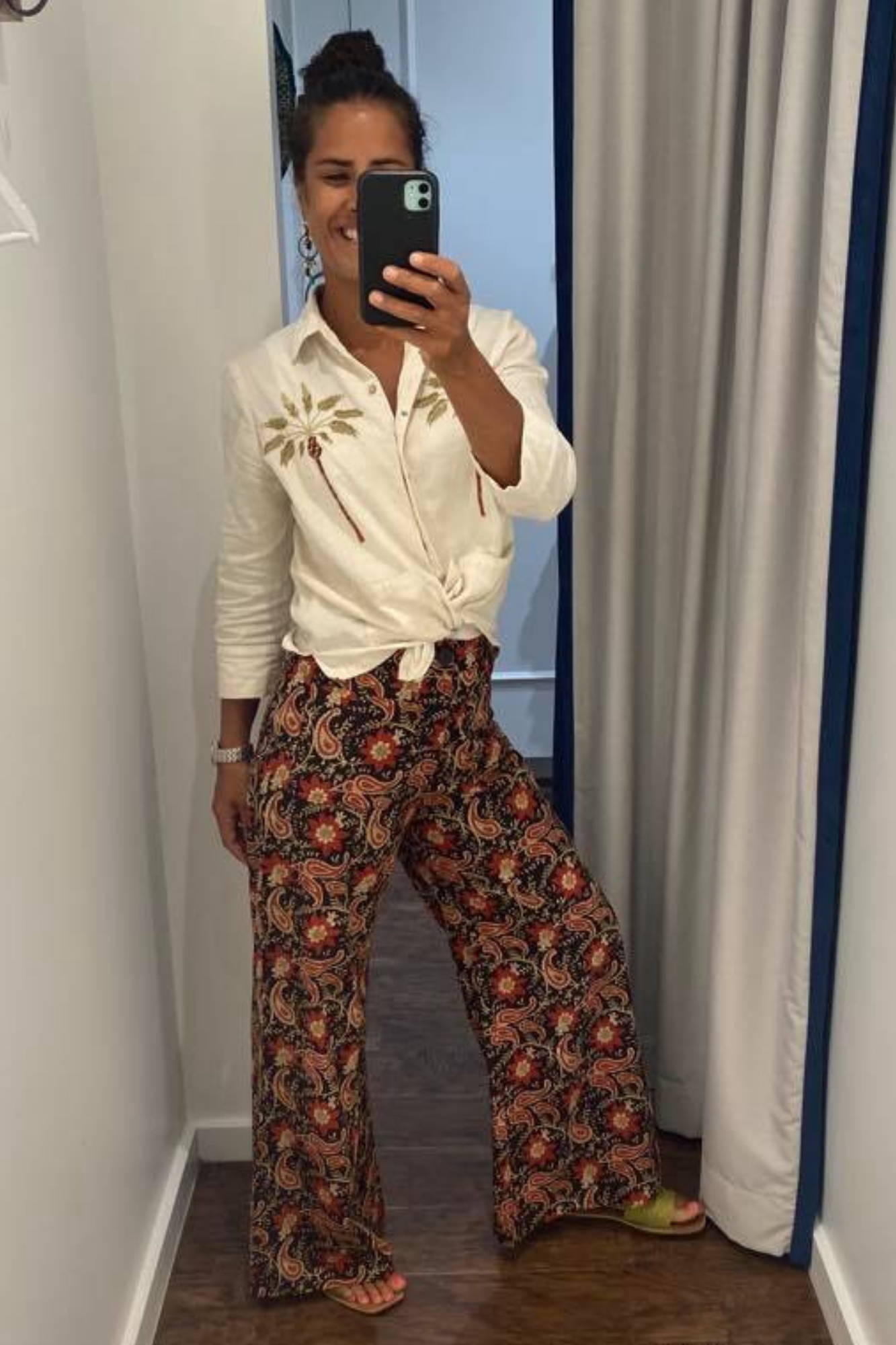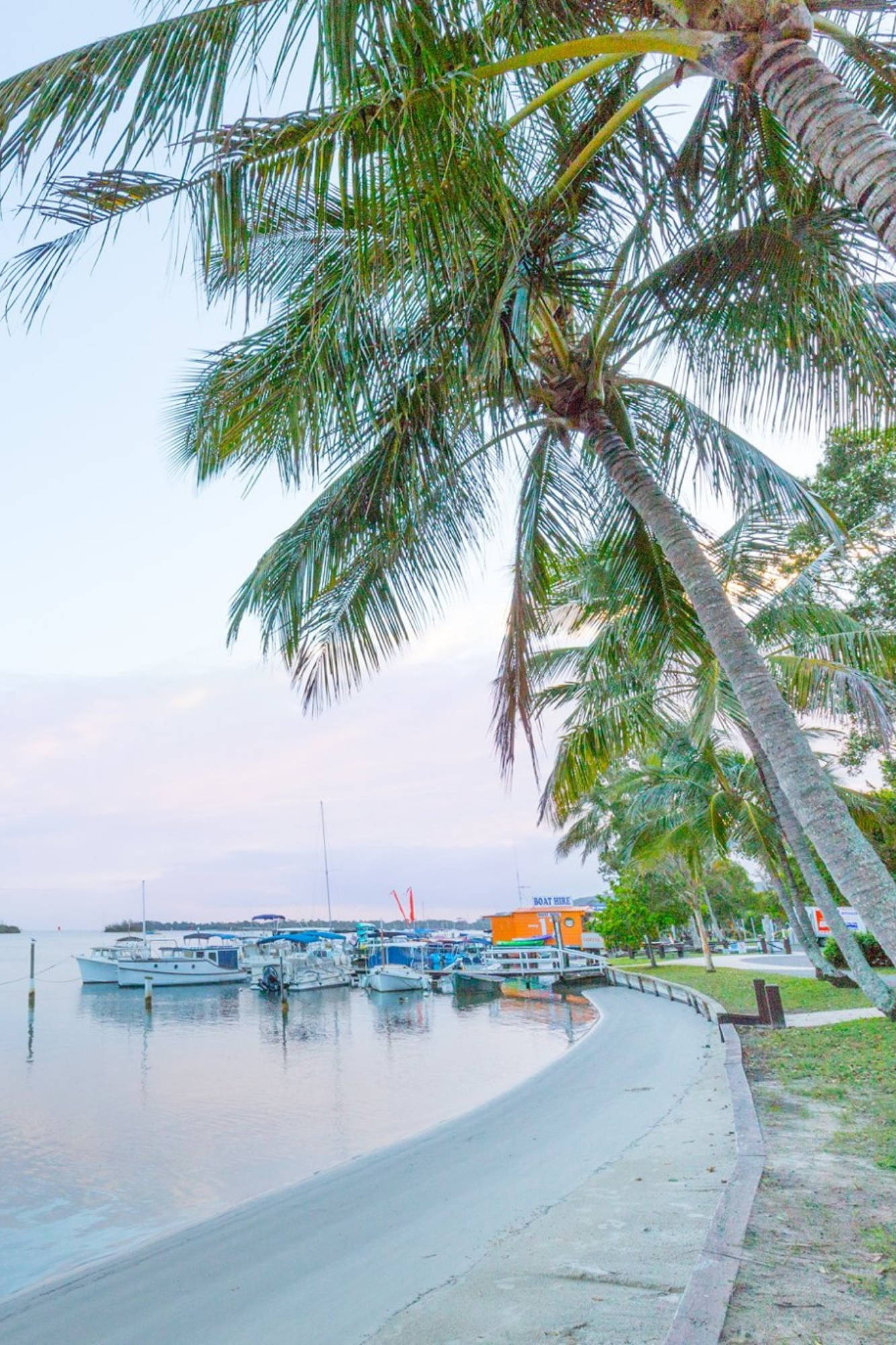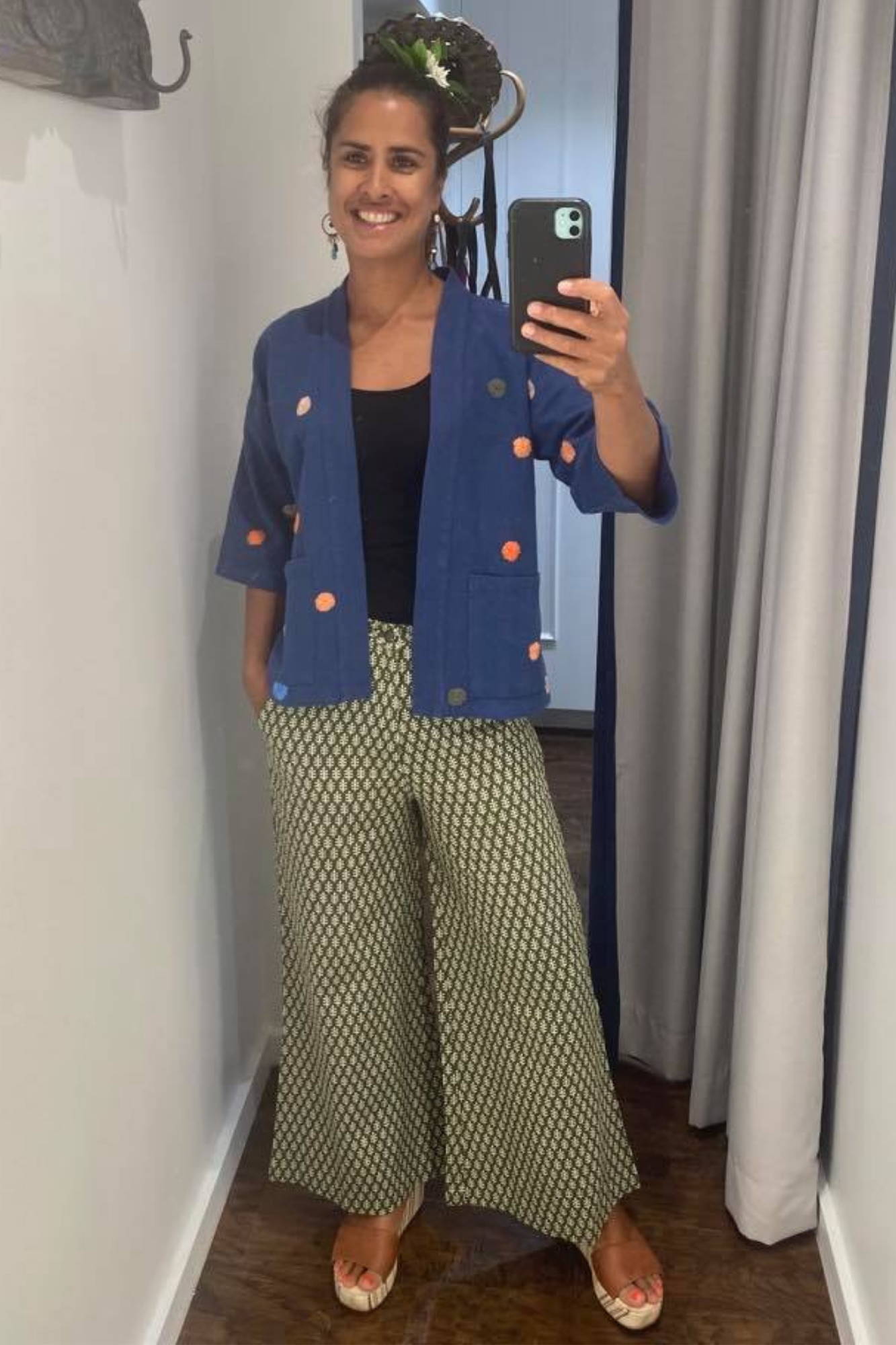 Above left, Natasha wears her favourite Sand Palm Shirt from our last 'Island Life' summer collection, with our funky Queens Grands Flares from this current winter... She's also styled the Forest Kent Wide Leg Pants with the fun Dotti Jacket (which is such a great versatile piece!)
🌺 🌿 🌺 🌿 🌺 🌿 🌺 🌿
And lastly, I catch up with lovely Nicola to see where her favourite Noosa spots are...
"Hi lovely people… I am Nikki and another long time local of Noosa.  We moved here in 1989 and although I spent many years working on yachts around the world,  when it was time to settle down, I knew exactly where I wanted to be!"
Favourite place for a coffee?
I love to grab a takeaway coffee and some healthy treats from the milk bar grocer and head over to the beach to enjoy it, or if I have some time I will relax with the paper at Aromas and people watch.
Favourite place to dine?
If we have the kids with us we love El Capitano for it's relaxed atmosphere and AMAZING pizza… we sometimes get takeaway and meet up with friends on the beach near first point and let the kids play while we watch the sunset with a glass of wine.
Favourite place for drinks with friends?
I love both Locale for its cosy atmosphere and amazing cocktails, and Moonstruck Gin bar for its European feel and friendly vibe.  
Favourite thing to do in Noosa?
My all time favourite day in Noosa starts with a swim at little cove, followed by a juice, a massage, and then some leisurely shopping with no interruptions!
Favourite activity /place with friends who come to visit Noosa?
North Sunshine Beach is my all time favourite spot, so we take our beach tent, a picnic and our dog and head down there for the day, relaxing, swimming and eating!  We usually follow it up with a meal at the Sunshine Surf club; its relaxing and there is plenty of space for the kids to run around too!
Favourite mix and match items?
I love all of the long skirts, they are perfect for  mix and matching time of year!  With sandals and a singlet in the summer , and boots, and a jumper and jacket in the winter!