5 Ways to Style the Liberty Top
Easy Read | 3-5 Minutes Read |
Last week while we were all at home working during another lockdown, Portia, our lovely marketing coordinator, was challenged by Brea and Georgie to come up with 5 different ways to style the Liberty Top, for 5 different occasions. The Liberty Top is from our AW21 Kindness collection, is available in either black or white, and we think it's one of our best kept secrets. It's made with extremely luxurious Modal fabric, which is a type of rayon that is smooth, soft, breathes extremely well, and feels like a mix between cotton and silk. Modal fabric is made from beech tree pulp and is slightly more durable and flexible than standard rayon. 
 Let's take a look at what she came up with….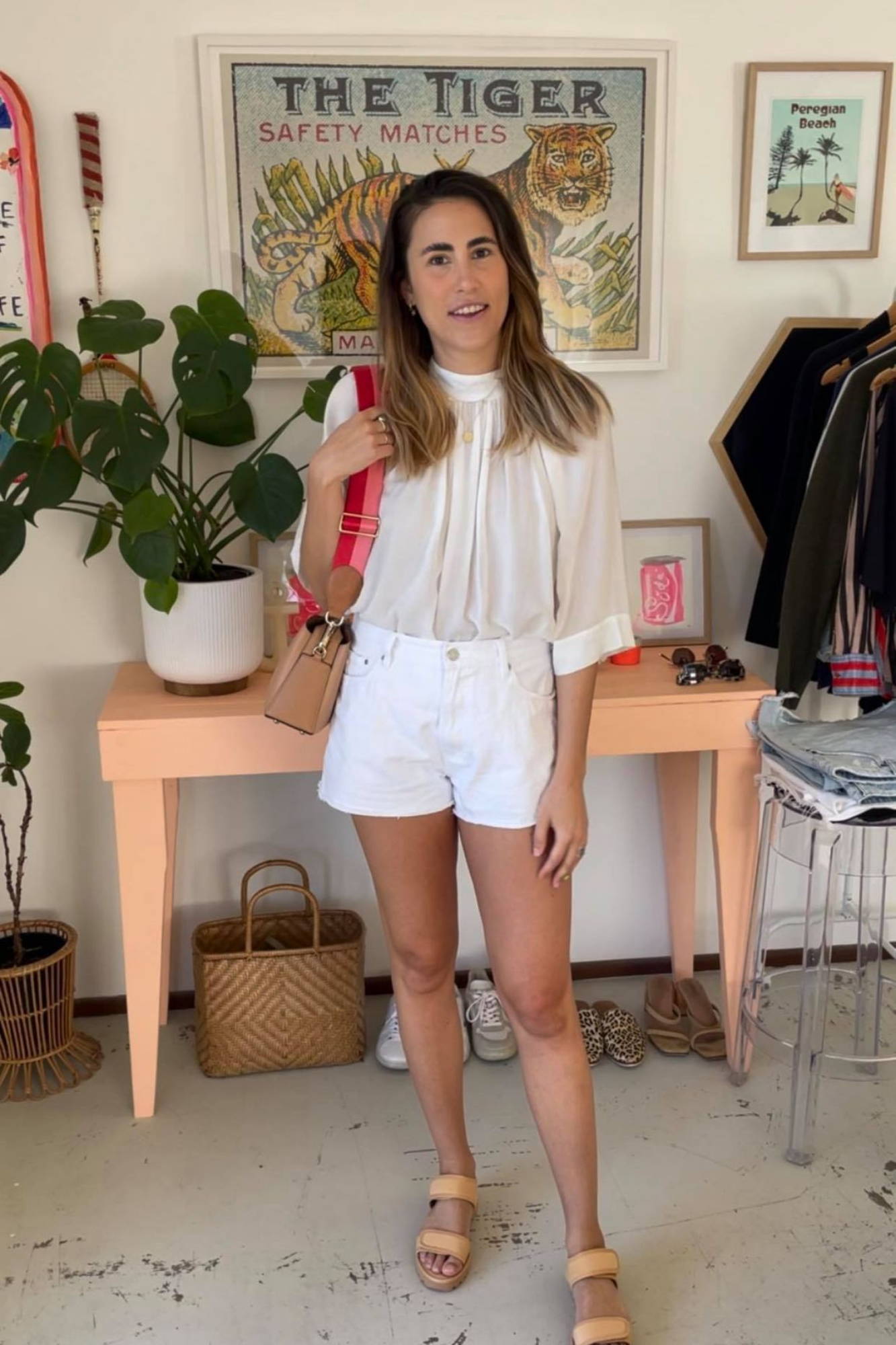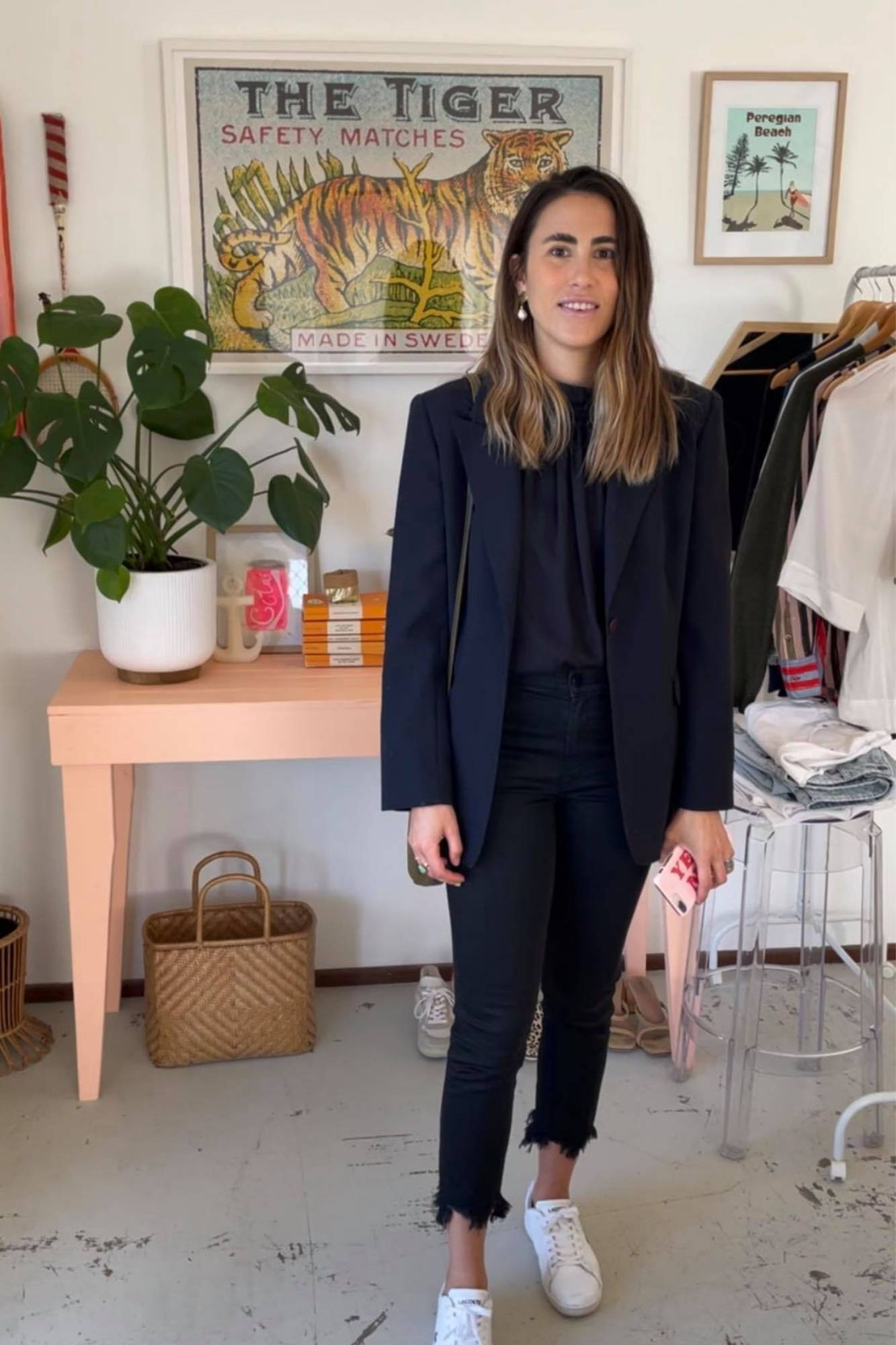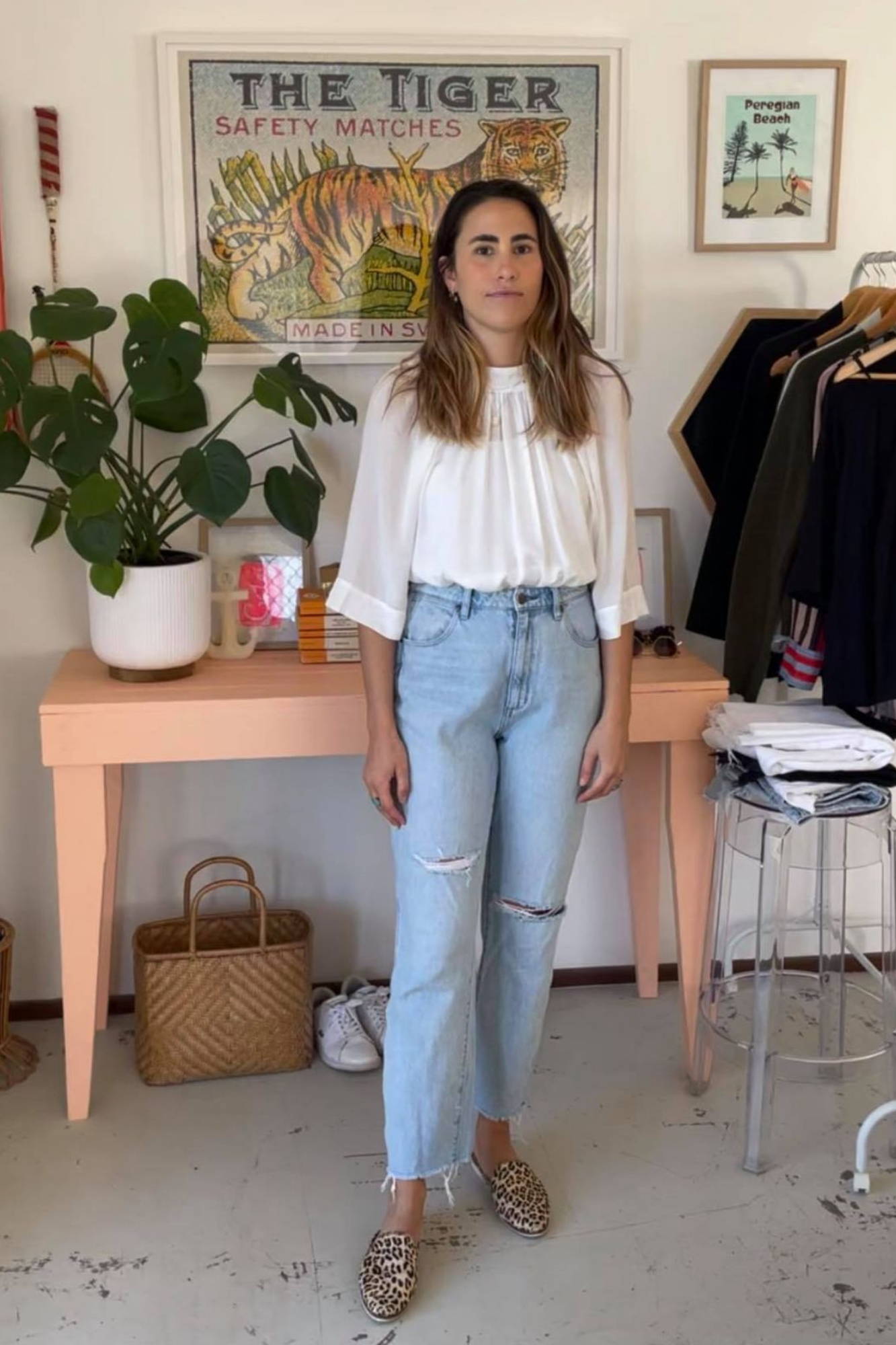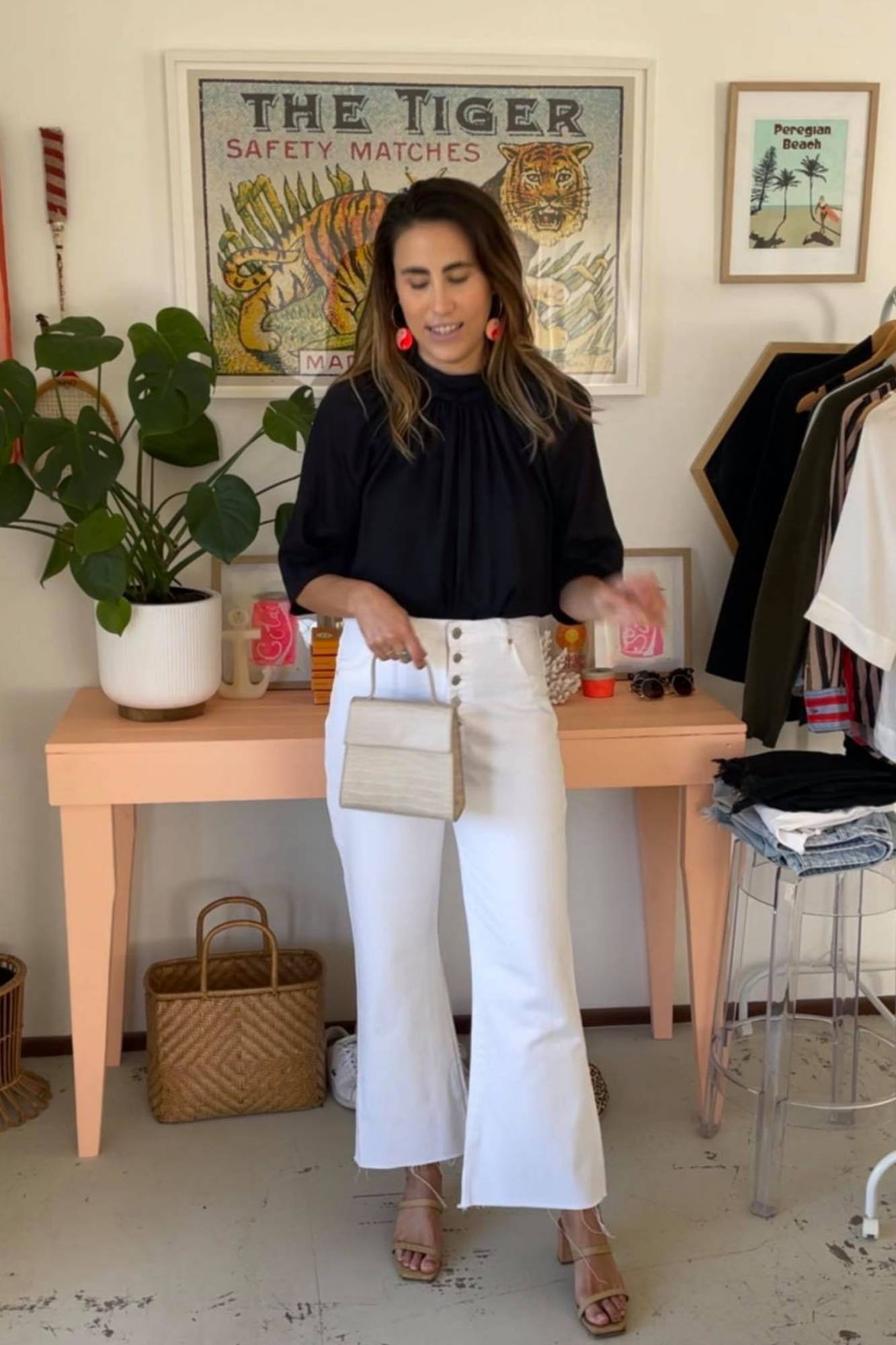 Photos from left to right...
🏖 🍦 🏖 🍦 🏖 🍦
First off was a 'Day in Noosa', and who couldn't resist that! The beaches, lovely boardwalks, coffee, gelato, numerous restaurants, and of course, afternoon cocktails. For this occasion Portia choose the White Liberty Top teamed with a pair of her own white shorts.  This look is relaxed and comfortable, great for walks on the beach, popping into a restaurant, or doing a spot of shopping at our gorgeous little Boom Shankar store on Hastings Street. For this outfit Portia opted to not wear the cami under the Liberty Top as it allows the top to float more and show off how beautifully it drapes. To add a little colour to the outfit Portia has teamed it with a colourful handbag and some fun big sunglasses, plus her favourite Twoobs. 
👩🏼‍💻 🏙 👩🏼‍💻 🏙 👩🏼‍💻 🏙
For her second challenge, Portia was asked to style the Liberty Top for a day in Brisbane (or any city really) for her corporate job. Being a beach girl, and not having a corporate job, Portia struggled with having 'that corporate' clothing and accessories for this task, but I think what she came up with looks great, just might not be the best if she was a lawyer in court. For this look Portia chose the Black Liberty Top for more of that corporate city vibe and tucked into some simple black jeans. This time she kept the cami/slip on underneath to give the top more structure and a little extra warmth. She finished the look off with a blazer, some white sneakers (as she doesn't have any "more corporate" shoes, but some ballet slippers or flats would also look great, and just a nice simple handbag . "Obviously it's not completely corporate, but it's about as corporate as I'm going to get to be honest".  For those of us with a coastal lifestyle, we think she's looking pretty smart!
🌞 🍺 🌞 🍺 🌞 🍺
Next up was 'a casual afternoon at the pub with friends' (gosh, I love the way our marketing team think!) So for this occasion Portia went back to the White Liberty Top worn with the cami underneath for a little extra comfort, and she's styled it with some light denim jeans for that nice relaxed Sunday afternoon chilled vibe look. She's accessorised this casual classy look with a pair of sunglasses and her favourite leopard Rollies slides. This is a year round outfit!
🍸 💃🏻 🍸 💃🏻 🍸 💃🏻
Portia's next challenge was 'a night out with friends', so Portia decided to keep the Black Liberty Top on as it felt a little more dressy for this occasion, and with the cami/slip underneath for warmth and also structure. She paired it with a nice pair of white high waisted jeans with a slight flared leg, and finished it off with tan coloured pair of strappy mules, a cute little clutch and some colourful statement earrings. For this look Portia has tucked the Liberty Top in to give her more shape and also to make it a little more formal.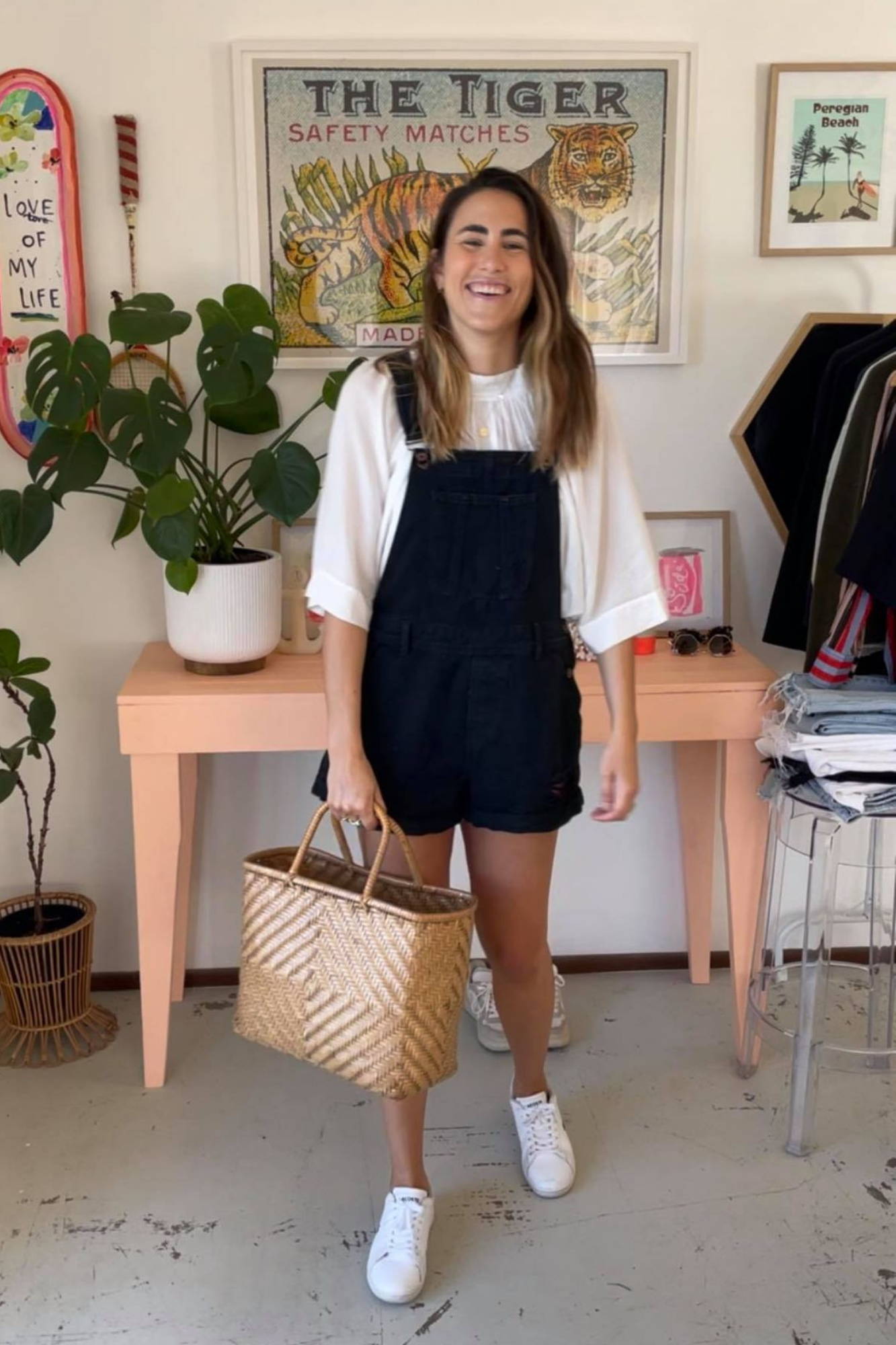 For her final occassion, Portia is told she's off to the Sunday Markets, which is something she knows how to dress for easily as she loves doing and goes to every weekend for fresh produce.
👨🏼‍🌾 🌽 🧑🏻‍🌾 🍎 👨🏼‍🌾 🥕
NEWS FLASH! Supporting local farmers markets is something all of us at Boom Shankar HQ love to do. Firstly, the produce available at Farmers Markets is of much higher quality than produce sold at supermarkets, and often times it is grown organically, therefore better for our health.. Plus, we're supporting small businesses directly so the producers make more, and we cut down on unnecessary transportation, therefore assisting the planet. So overall, it's a WIN WIN!
🌏 🌿 🌏 🌿 🌏 🌿
Anyway, back to the styling…
Portia has chosen to wear the White Liberty Top for her visit to the Farmers Market, and she's teamed it with a fun pair of denim overalls (you know, to give off that farmer vibe) and some white sneakers. Portia loves how the beautiful soft flowing material of the Liberty Top sits out from the overalls, rather than wearing a more fitted top with them. Of course, when going to the markets you can never forget a good cane basket for all the goodies you're going to buy when you're there. You could also style this outfit with some tan sandals in summer, or a pair of Chelsea boots for a chunkier look.
Watch the video below as Portia walks you through all these styles...
We hope you enjoyed hanging out with Portia in her living room and that her tips gave you a little inspiration for styling one of our best kept secrets... The Liberty Top... AVAILABLE HERE!